Web Development Skills Help Disabled Children: Iowa Web Accessibility, UX & Inclusive Design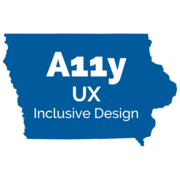 This month's A11y UX Inclusive Design meeting was held at the Geonetric building in Cedar Rapids, Iowa. Our guest presenter was a graduate student from The University of Iowa, Rochelle Honey-Arcement. She ended up creating her own major Health and Disability Advocate to truly suit her needs. She presented tonight for our Web Dev Group (see the video below). Her thesis is about immigrant parents with children who have disabilities and the perception of the quality of service that their children are receiving. She has found that support systems are much needed for this demographic. She would like to see greater online support along with real world support systems as well.
Second Half of tonight's presentation by Andrea Skeries:
Our fearless UX leader Andrea Skeries talks about her experience at this year's CSUN Conference. Lots of hot new toys and gadgets for both visually and hearing impaired. My favorite was the smart watch for the blind with an active Braille readout known as DOT. It pairs with a smartphone and gives you information at your fingertips, literally. I can see this to be quite a viable product for anyone who is blind! Next month's meeting we will be delving into how to make our websites friendly for all of this new tech gadgetry hitting the stores.
https://bigtenwebdesign.com/wp-content/uploads/2016/03/Group-at-A11y-UX-event-in-Cedar-Rapids.jpg
3456
4608
avannoy
https://bigtenwebdesign.com/wp-content/uploads/2016/10/Big-Ten-Web-Design-SEO-Marketing-logo-with-text-300x78.png
avannoy
2016-03-31 18:00:09
2018-04-30 04:15:13
Web Development Skills Help Disabled Children: Iowa Web Accessibility, UX & Inclusive Design