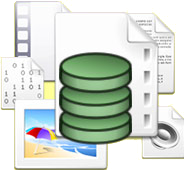 I'm sitting at Forbidden Planet enjoying my calzone and in comes the co-owner Tommy Connolly talking about how he is having troubles with updating one of his other company's (The Bluebird Diner) websites that is based on WordPress. After one of the patrons of the restaurant jokingly Google's "what is WordPress", I chime in asking what would you like to know about it? I started off by saying lots of people think it's just used for blogging, but also lots of large corporations use this technology to easily manage their website(s).
Needless to say Tommy realized that I work with WP full time and I even name-dropped that I'm the Co-Organizer/Event Host for the Cedar Rapids WordPress Meetup Group. Tommy has become a friend of mine over the years that I've been going to Forbidden Planet and I offered to help him out with getting the company logo with downloadable menu in a PDF file format to show up on the website.
Tommy logged into The Bluebird Dinner's website and I navigated over to the Appearance > Widgets to update the right side widget area of the

website that was missing the logo with downloadable pdf menu. I noticed that the original website designer utilized a plugin called WP-Filebase, a plugin that I was not currently familiar with. I noticed while looking at the widgets area in the admin panel that the plugin was trying to autofill but it wasn't currently on the correct setting of "menu_2". The previous web designer didn't make the selections all that clear, but I was able to dope it out quickly and get the logo with downloadable PDF up and running fast! It still needs some CSS work and maybe a line break to completely look good, but getting the Menu back up and running was key at this point.
A refill of my coffee and game tokens to play the pinball machines was all the payment I needed for this quick job and potential new customer in the future.
https://bigtenwebdesign.com/wp-content/uploads/2016/04/Worked-on-the-bluebird-diner-website-with-owner.png
937
1498
avannoy
https://bigtenwebdesign.com/wp-content/uploads/2016/10/Big-Ten-Web-Design-SEO-Marketing-logo-with-text-300x78.png
avannoy
2016-04-02 15:25:42
2016-04-23 16:16:35
Website work for the owner of The Bluebird Diner in Iowa City, IA